TJB Velvet 912U-ET
226M x Matrix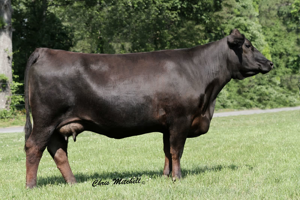 Reg#: AMGV1105251
(226M/Matrix)
912U(Co-Owned with Swanson Cattle Company) stands at the top of TJB Gelbvieh. She is one of the rare cows that combines the most phenomenal phenotype with equally as impressive production. Her progeny always rise to the top.
TJB Vengeance (HB/HP BA38) topped the sale in 2016 for $8100 going to friend, colleague, and long time customer, Dr. Brian Dyer and his family. We are currently breeding Vengeance to our mature cows as well as using him in our AI/ET program. Look for him to be used to combine the great Vickie Vail females with the Anissa pedigrees.
To further incorporate the greatness of this female, we also chose TJB Valiant 520C, also HB/HP BA50 son of 912U to clean up our heifers after AI. Early calves look fabulous!
Her son, TJB Vickram 342A-ET topped the 2014 Bull Sale for $15000 going to Taubenheim Gelbvieh. The flush mate son, Rusty Vail sold to Severtson Land and Cattle for $9000. Her first calf, 107X and her Reflex heifer calf sold to Skyler Martin in 2012 sale and were they ever dynamite. Unlimited potential in this female.
Please evaluate 912U in her video. She is flawless. Look for a great influence in our program as well as Swanson Cattle Company.
---
TJB Vickram 342A-ET (Owned by Taubenheim Gelbvieh)
Vickram is a homozygous black/homozygous polled BA75. Being a son of 912U combined with the outcross genetics of Xterminator make this bull potentially a tremendous breeding piece in our program. We are currently calving his first crop of calves and the proof will reside in his progeny.
TJB Velvet 912U 521C-ET

912U x Sandhills 0065X

VIEW MORE

TJB Vengeance 517C-ET

TJB Velvet 912U-ET

Sold to Dyer Farms $8100

VIEW MORE