About TJB Gelbvieh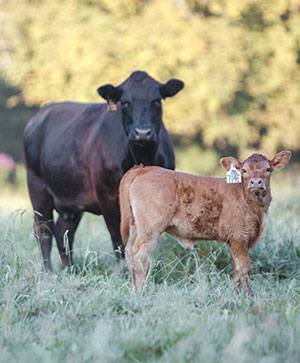 TJB Gelbvieh began in 1988 in Chickamauga, GA., a historic area located at the foot of Lookout Mountain in northwest Georgia. Dr. Todd Bickett had the opportunity in his large animal veterinary practice to experience Gelbvieh cattle. The initial attraction to this great breed was their performance and disposition, as well as their superior milking ability. Dr. Bickett then began his search for elite Gelbvieh genetics to utilize in his ET program.
Initial Gelbvieh genetics were purchased from Nelson Gelbvieh Ranch in Washington. Our continued search for dominant donor females led us to Beartooth Ranch in 1992. The real breakthrough in the direction of the TJB program came through the purchase of FLK Hochger 108N.She proved to be the first real impact female in the program. Equally as important was the relationship formed with the people at Beartooth Ranch i.e. Rob Aumueller, John Carrel, and Brian Barragree. The future purchases of Vickie Vail, Vickie V (1998 Reserve National Champion Female), Lady Granite 432S, Lady Granite 2001E, and Lady Granite 2079L formed the base of females still working today. The program today is still based on the same philosophy to identify and utilize proven cow families.
An unfortunate thing happened along the course of TJB Gelbvieh. Due to circumstances beyond their control, TJB Gelbvieh was forced to disperse the cow herd on September 30, 2006. Although premature in the total scheme of the program, the sale was a tremendous success. The dispersal averaged $2490 on 217 live lots. 428 Gelbvieh embryos were sold for an average of $227/embryo and 116 Balancer embryos sold to average $325/embryo.
TJB Gelbvieh has currently repopulated the program breeding the proven red PB Gelbvieh females to known maternal Angus sires. We have succeeded in producing cattle with the same look and performance in a black hide and a more moderate frame. From that base of Balancer females, we will breed those cattle to a higher percentage Gelbvieh while attempting to maintain the frame size and fleshing ability. We are now producing approximately 100 calves in a Fall calving season.
TJB Gelbvieh is a family owned and operated farm with a focus on superior genetics and an emphasis on customer satisfaction. TJB Gelbvieh is proud to be involved in the beef industry and the Gelbvieh breed in particular. Gelbvieh cattle will play a role in the future of the beef industry and TJB genetics will be a factor in that development.