TJB Blackcap B042 823T ET
B042 x Junior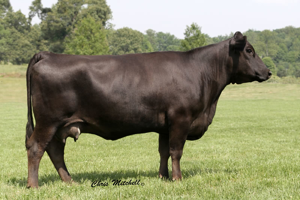 Reg#: AMGV1066297
823T is one of our most consistent and dominant females through her 66 progeny to date. The great thing for us is that we truly believe she is an ideal beef cow in production. She is extremely moderate in frame size but deep sided, sound moving, good uddered, and a tremendous disposition.
823T's bull by TJB Rusty Vail (TJB Rusty 5135D) topped the 2017 Bull Sale at $6500 going to long time friend and Gelbvieh breeder Larry Hadden.
Her first natural calf, sired by Big N Rich was named Big Show. He has produced some outstanding progeny and was utilized in breeding our 75% females. Unfortunately, we lost him with an injury. He was very much like his dam in type and kind. 823T's first embryo progeny sired by Masterpiece, have proven to be some of our best calves. 156X was named Champion Female in 2011 at Gwinnett County Fair as well as Reserve Division Champion at 2011 NAILE and has now matured into an outstanding individual. 157X also was named Champion Bull at the Gwinnett County Fair and won his class at the NAILE. Better yet, they will be breeding pieces for our future.
With ratios of 101 BW 103WW and 105YW she is not just a pretty picture.
Used natural service and eventually AI for us. Some excellent females.
---
---